Alright boys and girls, it's the time of the year again. *g*
This year I had the great pleasure and honor to work with my lovely and very talented
nicb0723
again. And to say we had fun would be quite an understatement because we had a BLAST!! Again, she provided me with a brilliant story and gave me a great opportunity to challenge myself.
You all need to head over there to not only read her great masterpiece "
Angel in Blue
" but also wish my girl a HAPPY BIRTHDAY! :)
nicb0723
, I hope you have a fabulous day *hugs*
Story summary:
Officer Ackles is a hardened city cop who finds himself in the worst situation, staring down the barrel of a loaded gun. When Jared rescues the officer, Jensen owes Jared his life.… or perhaps, it's the other way around. An AU based on the movie, Angel Eyes.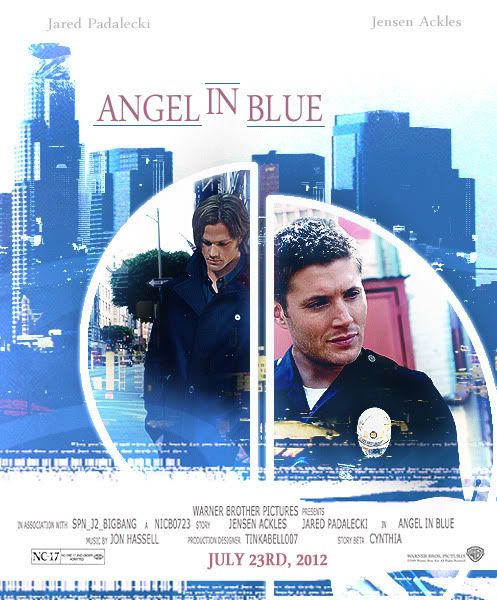 Jensen in his cop uniform





Jared wandering the streets:





Jared playing the trumpet at the club:





The note Jared sticks on Jensen's door:




A few icons…

1.
2.


3.

4.
5.


Well, that's it. Hope you like :-) Please NO hotlinking of the graphics or uploading them somewhere else. Thank you :)

Last but def. not least I would like to take the opportunity to thank
wendy and
thehighwaywoman for providing us with another great year of Big Bang fun!!! -) You ladies rock! THANK YOU! <3

Disclaimer: This is only for fun and pure fiction. No profit is made with any of this.