Today I have two Alona & Jensen videos from Asylum. It's really sweet how the two of them interact with eath other :).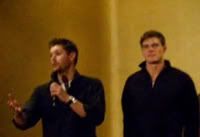 As always:
PLEASE do not upload, hotlink or copy these clips!!!
Sunday Closing Ceremony Clip #1
The guests are coming back on stage + Jensen giving his speech, thanking the fans in Jared's and his name. And what's just
too cute
is the way Alona snuggling up on Jensen, wanting to stand besides him and then looking up between Jensen and Alan trying to make herself taler.
Watch or Dl @ ZShare
Dl @ Sendspace
Sunday Closing Ceremony Clip #2
Alona giving her speech – and Jensen's reaction is just so sweet, clapping as the very first after she's finished.
Watch or Dl @ ZShare
Dl @ Sendspace
Enjoy :-)
Current Mood:
melancholy