You know, THAT guy from Prison Break? *gg* Yeah well...
Alright, Breakout was not only a Veronica Mars fan weekend for me. I also was looking forward to meet Robert Knepper who plays T-Bag on the hit show "Prison Break"
I have to admit I kinda LOVE to hate T-Bag since season one. *gg* (and sometimes I'm pretty much alone with this opinion… but do I care? Not so much *g* )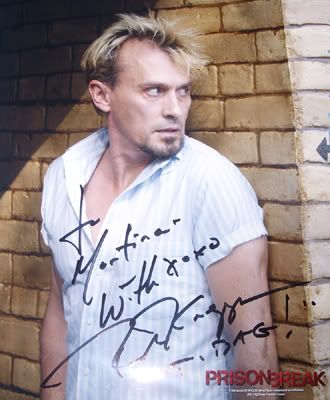 faith_mars
and I were the only ones of our group
brave enough
looking forward to meet the man. So, of course, we bought tickets to get a picture taken with him. And let me tell you, standing in line, waiting to get into the room was quite the scare. I swear to you I'm not kidding, but EVERYONE who came out had a terrified look on their faces!! No one was smiling! And at one point a girl went out and started running down the hallway, far away from the room! So yeah, that left us a
liiittle
concerned. At one point I constantly turned to
faith_mars
asking her why again we were doing this? lol And she just stared back at me monitoring my expression
I have no fucking idea…
So yeah… fun! *gg*
But of course our concerns vanished the second we went into the room. Robert seemed really nice and everyone who went up to him for the shoot was greeted with a kiss on the cheek. So yeah, that was kinda sweet.
As I went up to him, he immediately greeted me with a warm "Hello there" and kissed me on the cheek. Then we got ready for the picture. I so did not expect him to start talking to me, but he kinda did.
And the short conversation was really just small talk, but funny *g*
Robert: Hey you smell like apple or something
Me: Oh, actually it's strawberry. [
it was my chewing gum, btw lol
]
Robert: Oh, very sweet. I like it.
So yeah… I talked to Robert… about gum! *lol* How can I ever be afraid of him again?!
And just before the picture was taken he also closed the gap between us and leaned his head against mine. Yeah, that was really sweet as well.
Let me tell you, Robert is such a nice and well-spoken guy. And in the end I was very happy that we decided to go up and meet him. And now I even love to hate T-Bag a little bit more *gg*
Well, here are some pictures from the first panel:
Plz no hotlinking :)